What is Return On Investment (ROI)? Definition, Importance, Formula
If you are looking for a metric to measure the profitability of your investment, Return on Investment (ROI) is the way to find out. It is the ratio that shows the financial benefit you earned against a particular investment. In simple words, it compares the cost of investment and the return you get to evaluate its efficiency. Let's delve deep into it!
Our accountants at CruseBurke are qualified and cost-effective! We save your time, money, and stress by handling all your finances and business problems in no time! So, allow us to do this at an affordable package! 
What is Return on Investment (ROI)?
Return on investment is a financial metric to measure the financial return (gain or loss) against your investment. When you invest your money, ROI identifies how much profit or loss you have made. In addition, it tells you how effective or efficient your investments into your business are.
ROI helps you to understand what's working and what isn't. This assists you to make necessary changes for generating more income against the time and money you put into your business. And, it lets you know how valuable your investment and portfolio of investment can be.
Importance of ROI
ROI is used to evaluate how much worth a financial investment has. You can work out the attractiveness of different types of investment with an ROI. Mostly, investors use ROI to compare the potential investment and to get a better picture of a business. On the other side, companies also use ROI to work out which investments are more profitable to them.
So, it is easy to use metrics to evaluate the performance of an investment. It is shown in the percentage, which means the higher the number, the greater ROI.
How to Calculate ROI?
To calculate ROI, you can use this simple formula:
ROI = Net Return on Investment/Cost of Investment * 100%
Net Return on Investment refers to the net return you earned with an investment, after considering the cost already put in.
The Total Cost of Investment is the amount, you have invested into a particular investment.
You can also work out ROI using this formula: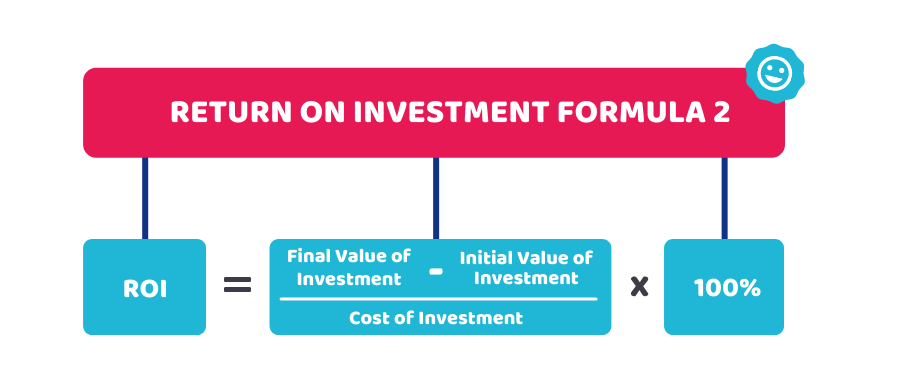 ROI = (Final Value of Investment – Initial Value of Investment)/Cost of Investment * 100%
Initial Value of Investment is the asset's worth/value at the time of investment.
Final Value of Investment is the financial value of an asset when an investment has ended.
Seek professional help with Accountants in London to work out your ROI. Get in touch or ask our accountants. Have a look at our inclusive startup or Limited company packages here!
What is a Good ROI?
A good ROI depends on multiple factors, like risks associated with the investment and the duration of the investment to generate a return. However, typically, investments with lower risks are more likely to have lower RIO. On the flip side, investments with higher risks generate higher returns to attract investors.
Typically, the annual ROI of 7% or above is considered a suitable ROI for investments in stocks. But you need to consider all of these factors to know a good ROI:
How much risk you can afford?
What will happen if you lose the money invested?
What alternative do you have, if you don't make this investment?
How much profit do you need to tackle the chances of losing money?
Quick Sum Up
Return on investment (ROI) is an easy and straightforward financial metric to determine the efficiency or effectiveness of any investment. In addition, this helps you to evaluate the different investments options to make a suitable decision for getting optimal returns. In this regard, you also need to consider taxes, fees and other things to get a clear picture of your actual ROI.
At CruseBurke, we have a team of skilled accountants in Croydon who provide solutions to all your business problems! Reach out to us today!
Get an instant quote from our accountants for the services you're looking for!
Disclaimer: This blog provides general guidance on ROI.
---