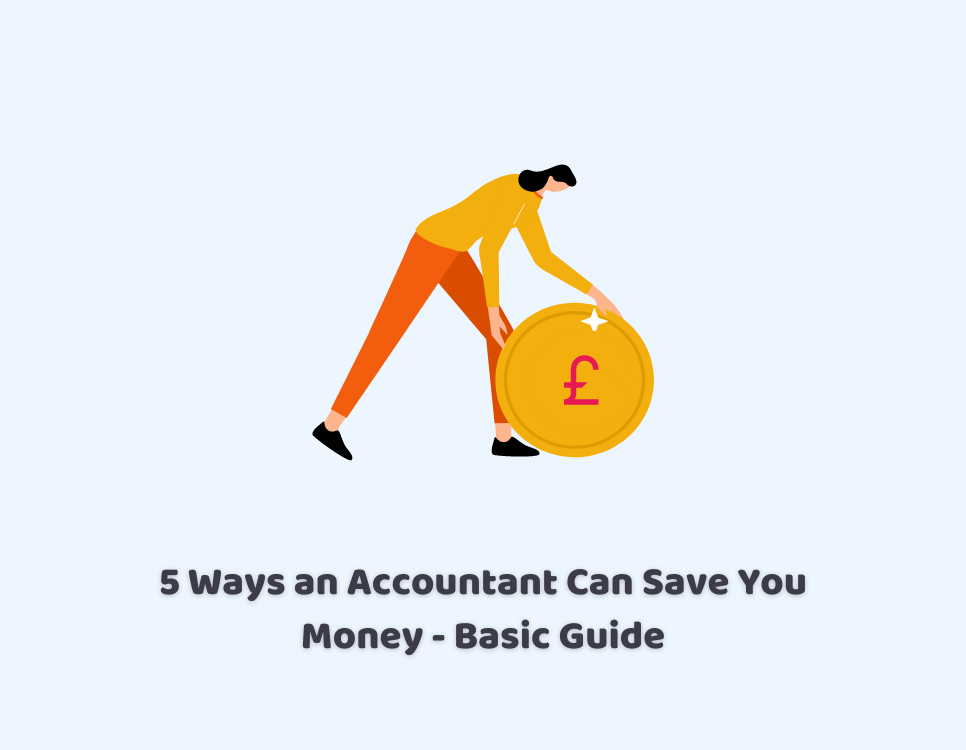 5 Ways an Accountant Can Save You Money – Basic Guide
Many small businesses are responsible for the management of their finances and administration. However, there are several advantages of employing an accountant to manage all of your business finances. Accountants are prepared experts who regularly see companies developing from new companies to built up businesses. With their understanding and abilities, you'll be well on your way to fixing your funds and running your trade in a way best suited to you. Here are the five ways an accountant can save you money and your company money.
Reduce your business burden by letting us manage all your finances accurately and in no time …! Contact us now!
5 Ways an Accountant Can Save You Money
The five ways an accountant can save you money are as follows:
1. Tax planning
Tax regulations can be confusing, and it can be very tough to remain side by side with all the changes to the law.
Your accountant can assist you in making the foremost of each tax year and guiding you with the most tax-efficient plan for your business. Your bookkeeper can moreover spare your trade cash by completing all the work before the deadlines. 
2. Cash Flow Advice
Good accounting functions and having control over your costs can assist cash flow in your trade. With extensive information, your accountant can assist you to spot patterns in your incomings and outgoings, allowing you to precisely foresee your accounts and keep your financial resources secure and reliable.
3. Business Growth
Experienced and skilled accountants can be the key advisors for your business plan. They have regularly seen enterprises growing from a new startup to an established business. From recognizing your most important clients to observing your development and setting reasonable targets, an accountant can back your commerce development conveniently and sensibly. Taking the correct steps may contrast boosting your income and reducing your trade advancement and potential ventures.
4. Time-Saving
Owners of small businesses understand how valuable time can be and how your accountant can spare your business cash by saving time. In addition, an accountant can offer assistance to free up your plan by taking responsibility for completing all the work before due dates. In this way, you'll have more time to contribute to client connections and the work you initially set out to do.
5. Mistakes Management
It's prevalent to make inaccuracies when it comes to funds. All it takes is one lost decimal, and everything is way off. In the event that you don't have a head for figures, it's very difficult to calculate. Most commerce proprietors aren't that incredible at the numbers side of things, and that does not matter since they have to be good at the commerce portion. That's where a skilled accountant comes invaluable, and it's the main reason for contracting out.
In the event that you're not awesome at something and discover that you can not calculate accurately, then you can either learn how to calculate precisely, or you can enlist somebody else to handle it for you. A chartered accountant will guarantee you get everything right. They can make sure that you have demanded all the incurred expenses, which helps you save your business money. They can work with you in managing all the finances and can help you in avoiding inaccuracies while calculating, as well.
Final Thoughts
To sum up, we have discussed the ways an accountant can save you money. A Qualified chartered accountant can manage all your taxation and finances efficiently. However, many business owners can make mistakes when it comes to finances; that is why they take time while choosing their accountant.
You can also look for such accountants since their thinking strategies can help you turn your company into a more effective form of what it is now.
Are you looking for a chartered accountant that can improve your business finances with his analytical skills and critical thinking? Contact us now! We have a team of chartered accountants offering the best accounting services at affordable prices!
---