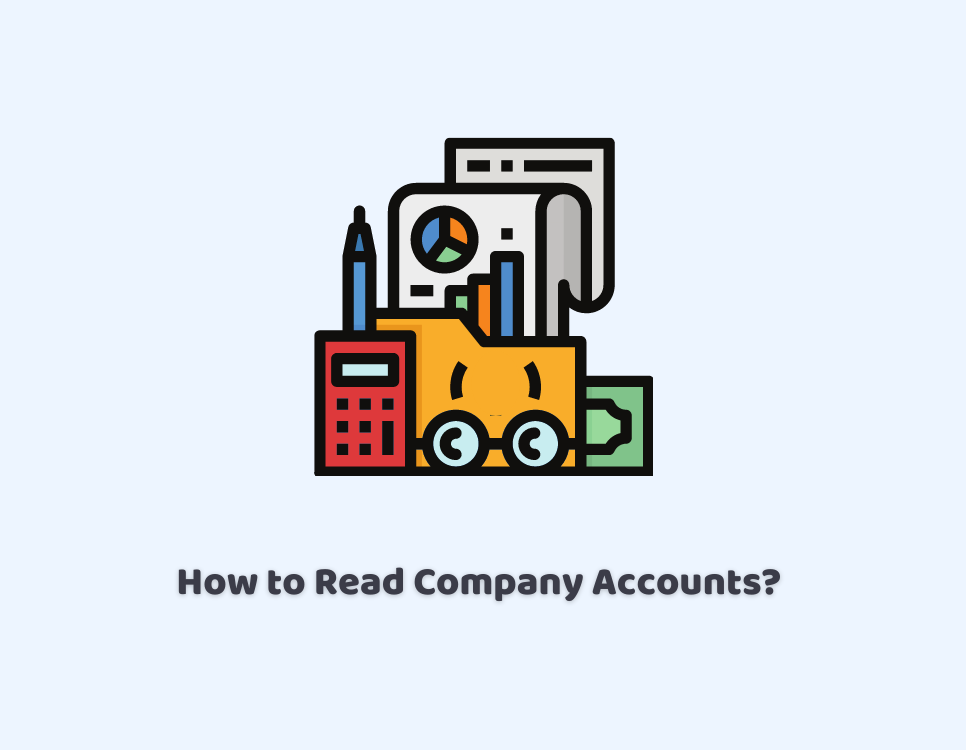 How to Read Company Accounts?
Whether you want to establish a company, want to do research, or just trying to understand the financial terminologies of the accounts. Reading and understanding those accounts can be daunting if you lack a financial background. For this reason, we're here to explore how to read company accounts as a beginner.
The details and terminologies on the accounts might not be as straightforward as you think. This information is necessary to know how we'll business is performing at a certain time. By reading this post till the end, you'll be able to read and understand these complex terminologies to assess the performance of your business. Let's delve into it!
It is advisable to get the help of an accountant to prepare, manage and maintain your accounts properly. Get in touch with us now!
Understanding the company's annual account?
The company's accounts are the overview of the financial activities of an organisation over one year. These accounts are made for HMRC and Companies House in a tax year. They comprise:
Balance Sheet
Profit and Loss Statement
Cash Flow Statement
What is a Balance sheet?
A balance sheet is a financial statement that will provide quick details of your business's assets, liabilities and the shareholder's equity at a single point in time. It shows the financial health of your company in a particular period. Moreover, it compares what is possessed and what is owed.
It deals with assets and liabilities.
An asset is something that is owned by business to generate profit. Typically, they can be divided into two types: fixed assets, current assets. Fixed assets are the long term assets like land, factories, vehicles etc. Whereas, current assets are the things that have a limited lifespan like stock items, petty cash, and cash in the bank, etc.
Liability is the obligation, often as a debt that needs to be repaid. There are two common types of liabilities. A current liability is some that are due to be repaid within the timeframe of one year. On the other hand, long term liabilities are not de to be repaid within the timeframe of one year.
Liquidity Ratio
It is a ratio that determines the ability of a business to pay its short term liabilities. This metric helps companies to determine whether they can use their current assets to cover their current liabilities. We can calculate it as:
Liquidity ratio = Current Assets / Current Liabilities
If this ratio is less than one, then it could be bad news for your business.
Curious to know the value of your business? Find out its net asset value.
Net Asset Value
Net asset value represents the net value of a company and you can calculate it by subtracting the company's total assets from its total liabilities.
Net Asset Value = (Fixed and Current assets) – (Total liabilities)
On the lookout for accountants for limited companies? Reach out to us today! We provide a wide range of tailored accounting and taxation services to solo entrepreneurs all the way to small and medium-sized businesses.
Profit and Loss Statement
The P & L statement records a performance of a company in a certain period. In fact, this statement provides the total revenue and expenses of the business in a financial year.
How to calculate P & L statement?
You can easily work out the gross profit of a company. The turnover figure of this statement shows the value of your sales. You need to subtract the cost of sales from the total turnover to find out the profit and loss statement.
Gross profit = turnover – cost of sales
To get a better view of your business profit, you can compare this figure with the previous year's gross profit.
Right below this statement you'll find earnings before interest, tax, depreciation and amortisation (EBITDA). To work out EBITDA, you need to subtract administrative expenses from the gross profit. Administrative expenses include:
Building's rent
The cost of utilities
Employees' salaries
A positive figure will provide you with a fair picture of your company's future.
EBITDA = gross profit – administrative expenses
Depreciation and Amortisation
Depreciation is the decreasing value of the fixed assets like machinery, equipment and buildings. In accounting, it provides an estimate of how much asset's value is used in a certain time. Whereas amortisation works the same as depreciation but it's applied on intangible assets like copyright, patents, intellectual property, etc.
The Cash Flow Statement
A cash flow statement shows the movement of the cash that goes and comes in your business in a certain period. This statement breaks cash into three categories:
Operating activities show how much cash comes from selling goods and services less than the amount required to manufacture and sell the product or services.
Investing activities indicate how cash has been used on capital expenditures like buying new machinery.
Financing activities shows the spending of outside financing activities like cash generated through selling stock etc.
If a company is making a lot of cash, it's favourable. However, negative cash flow isn't always a bad thing but if your company is showing a bad cash flow for a consecutive time period, you need to go for an investigation.
Quick Wrap Up
To sum up, after reading this post you've got a clear idea of how to read company accounts. With the help of this information, you can better comprehend your company's account to determine where your business stands. Moreover, this information will let you know how a business is performing. Finally, this will help you make tailored business decisions for the long-term success of your business.
Looking for professional help? CruseBurke is there to handle all of your financial worries. We provide you with professional advice for the growth of your business. Moreover, you can get accounting and taxation services for your business at an affordable rate.
Need further guidance Contact us today!
Disclaimer: This blog provides general information on the above topic, how-to-read-company-accounts.
---