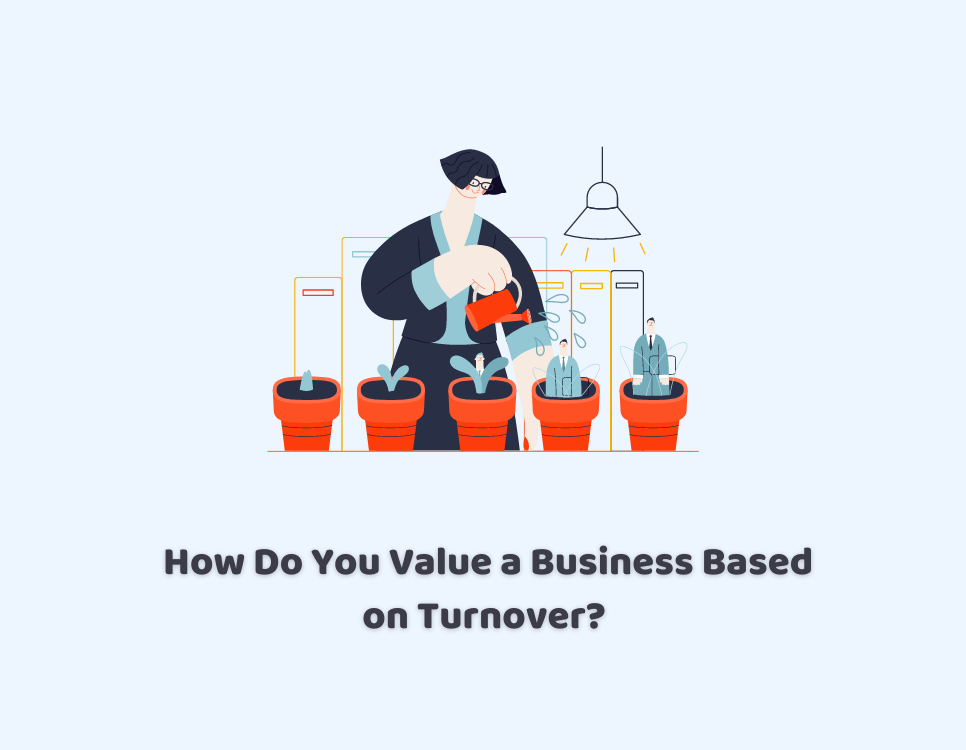 How Do You Value a Business Based on Turnover?
By valuing your business, you get to know its financial status through which you can make better business decisions for the future. Despite, the fact that business valuation is a complicated process. Yet, we'll make it easy for you by discussing how to value a business based on its turnover.
Let's find out the answer!
Methods to Calculate the Value of your Business:
There are many ways to calculate your business's value. Here is the list of few ways that are commonly used for valuing a business:
Sales-based or turnover-based valuation
Entry cost valuation
Asset valuation
Discounted cash flow
Ask an accountant to calculate your business worth!
In this blog, we'll only talk about how to value a business based on its turnover.
Sales-Based or Turnover-Based Valuation:
It is one of the simplest ways to calculate your value of a business using average weekly sales. This valuation is done by combining your total turnover in an accounting year (choice to add last year's turnover, too). Afterwards, you have to divide the sum of total turnover by the number of weeks in a financial year. While working out your average weekly sales, you have to exclude VAT.
Is Turn-over Based Valuation Suitable?
There's not a single method that suits all businesses equally. It varies depending on your industry and other factors of your business. Though it's one of the easiest ways to add a price tag to your business for a prompt sale.
This method shows the popularity of your products and the health of sales. However, this method doesn't indicate the efficiency of operations or investment. In addition, assets and other tricky things (including intangibles) can't be valued by this method.
If you're looking for a large business valuation including the above things accurately, you can mix up a few of the methods as per your business needs to find out the exact value of your business.
Key Takeaway: If you're new to business or have a small business setup, this method can be the right fit for you.
Want to sell your business but unable to find out its value, our expert team at CruseBurke will tell you the accurate value of your business. Besides, we will provide you the tips to raise your business value before its sale!
How to Value a Business Using Turnover-Based Valuation?
Wondering how to value a business based on its turnover! Follow the process below:
        1. Calculate your average weekly sales:
You can easily calculate your average weekly sales: divide the total turnover by the number of weeks in a year. While calculating this, you should not include the VAT. You can even add the previous financial year's details if available and do remember to divide them all together with an increased number of weeks.
       2. Multiply them with your sector value:
Then, you should multiply your average weekly sales by the total number of weeks that is equal to the fair value of a business. It is different from one sector to another. Like for a hair salon, it can be around 15 to 20 weeks. Whereas for a restaurant, it can be 30 weeks or more.
This formula will help you to understand the concept:
 (Turnover/Number of weeks) x Sector Multiple = Business Valuation
Let's make it easy with an example:
Suppose you are running a hair salon and have earned £65,000 in the last accounting year. You have to divide this amount by 52 weeks. Your average weekly turnover will be around £1250. In case, if the sector multiplier is 12 then your turnover based value of your business will be £15,000.
How CruseBurke can help:
We hope you have got a clear idea of how to value a business based on its turnover. This method obviously has some limitations. If this method doesn't suit your business, you can use other methods along with it. You should try to maximize your business value with different strategies. To find out those strategies, just leave your question here!
Turn-over based valuation is suitable for less complex businesses. However, if you own a medium or a large business, we're here to help you.
Find qualified chartered accountants in Croydon for business valuation advice!
Disclaimer: It is an informative blog that provides a general understanding of the topic.
---