The Pros and Cons of Crowdfunding for Business
With increasing popularity, crowdfunding has become one of the most viable ways to raise capital for your business. The emergence of platforms like Kickstarter and Indiegogo has taken its popularity to its peak by raising funds for startups and medium-scale businesses. The process of getting funds via these platforms seems easy, exciting and simple but it isn't that easy and simple. While Crowdfunding for business can be a great way to generate capital, it's not the ultimate solution to get funding.
Let's explore it by discussing its pros and cons.
In this blog, we're going to explore:
What is crowdfunding?
Types of Crowdfunding
Pros and Cons of Crowdfunding
Best Crowdfunding Platforms
What is Crowdfunding for Business?
To put it simply, crowdfunding is the process of getting a small amount of money (capital) from a lot of individuals (crowd) to kickstart a business venture. Crowdfunding platforms reach a vast number of people through social media or crowdfunding sites where investors and entrepreneurs meet to help new businesses through the pool of investors.
Manage your business finances with CruseBurke. Just let us know your need for affordable financial services tailored to your business needs!
Type of Crowdfunding
There are four major types of crowdfunding for businesses, where they can get money from various investors/donors. These are:
1) Donation-Based Crowdfunding
In this type of crowdfunding, people provide money for a company, person or campaign without getting anything in return. For example, your company needs machinery for its operation. The investor or donor will provide you with the money as support for your business growth without any other interest.
 2) Debt-Based Crowdfunding
This is crowd-based lending, where people provide debt-based donations as a loan that is needed to be repaid along with the interest.
3) Reward-Based Crowdfunding
Unlike debt-based crowdfunding in reward-based crowdfunding, the lender receives a reward against the money they invested or donated. The rewards vary based on the amount of donation or company. Here lenders get a reward like a t-shirt, service or product against their fund. These gifts are often provided at a discounted rate.
4) Equity-Based Crowdfunding
Here the small businesses allow lenders or donors to take a small portion of their business against their funds. These donations are like investments now in which the investors receive shares of the businesses based on their business amount.
Pros and Cons of Crowdfunding
No matter what type of crowdfunding you choose, it can be a great place for new businesses. Here are some of the benefits of crowdfunding: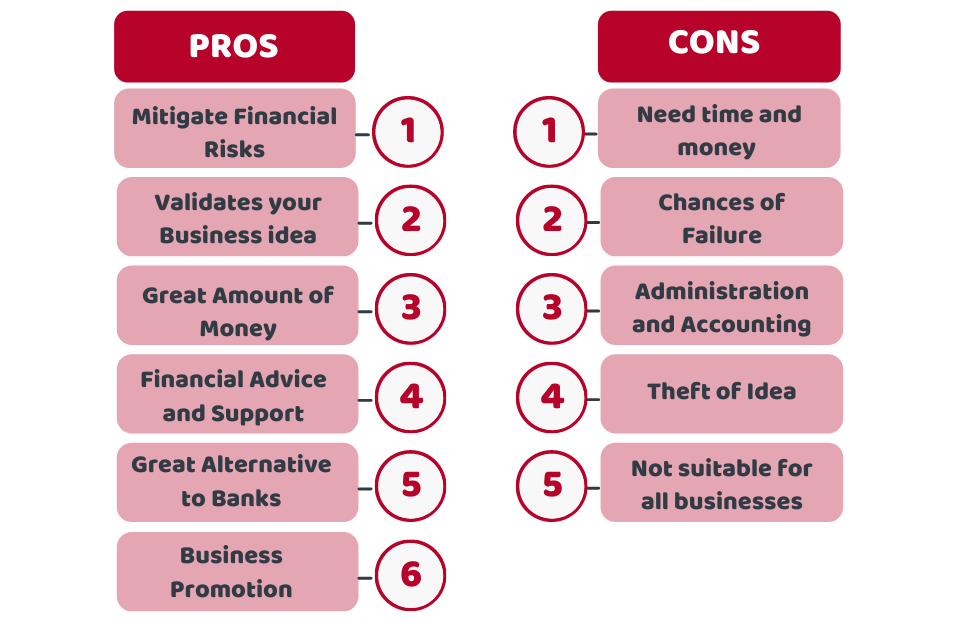 1) Mitigate Financial Risks
There are fewer financial risks associated with crowdfunding. It's one of the best ways to access the viability of your business before making a huge investment.
Reduce your financial risk with our accountants. Reach out today!
2) Validates your Business idea
A successful crowdfunding campaign can be great for your business as it is validated by a large number of people. You can eliminate your doubts and can know whether there's demand for your services or products in the market or not.
3) Great Amount of Money
You can kickstart your business venture by getting ample money through crowdfunding
4) Financial Advice and Support
Along with financial support, you can get new ideas and feedback from experts and others to boost your business.
5) Great Alternative to Banks
Securing bank credit is a daunting task whereas crowdfunding provides your different types of donations, funding, and interest-free loans etc.
6) Business Promotion
With crowdfunding, you need to invest in marketing or advertising to promote your business as crowdfunding platforms do it for you without any hassle and free of cost.
Along with a lot of benefits, crowdfunding also contains some cons that need to be considered beforehand:
1) Need time and money to invest
To make your campaign successful you need to do a lot of efforts. You may also need to invest time and money to build prototypes, videos and content and market it.
2) Chances of Failure
There are many chances of failure as there is a lot of competition in the market. Along with the embarrassment, your money and time can be wasted.
3) Administration and Accounting
While crowdfunding websites provide many services but still have to keep a record of investors, rewards, contributions and shareholders etc. Moreover, you also need to keep accurate books of your business to provide a fair share of profit to each investor. And it can be a daunting process.
Don't worry we have the solution. CruseBurke has a team of accountants to provide affordable financial services for you. Feel free to reach out!
4) Theft of Idea
You might have got an innovative idea, but it can be stolen by any other person unless it is patented and you have copyrights and trademarks in place. Some people could steal your idea to come up with a better version of it.
5) Not suitable for all businesses
Crowdfunding can be a great place only for a business that's dealing with consumer-facing products like bags, shoes, garments etc but it can not suit for service-based businesses like a salon, catering, etc.
Let's see what are the top crowdfunding platforms of the world.
Best Crowdfunding Platforms
Here is the list of some great crowdfunding platforms from where you can fuel up your business:
Kickstarter.
Indiegogo.
Patreon.
GoFundMe.
Chuffed.
ArtistShare.
MightyCause.
InKind.
Crowdfunder.
Give.
Charitable.
Lending Club.
AngelList.
Ulule.
Funding Circle.
Seed&Spark.
Crowdcube.
GoGetFunding.
Fundable.
Fundrazr.
Kiva.
Before signing up, you need to read the guidelines of each platform to find out whether you meet their eligibility criteria or not.
Quick Wrap Up
To sum up, we can say that crowdfunding for business can be a great way to raise funds for some businesses. However, there are still many businesses that can't fulfil their fundraising goals through it.
It is always advisable to get help from a financial advisor for flourishing your business. So what're you waiting for. Contact our financial advisor to skyrocket your business growth!
Get an instant quote as per your needs!
Disclaimer: This blog is just for general information about crowdfunding.
---